GSM e.V.
Society for Self-Playing Musical Instruments (Gesellschaft für Selbstspielende Musikinstrumente e.V.)
The "Society for Self-Playing Musical Instruments" was founded in 1975 with the aim of investigating, maintaining and encouraging the cultural tradition of self-playing musical instruments. This international association has around 600 members, among them many institutions such as musicological institutes and national libraries, but in particular collectors and lovers of these instruments. The Society's journal, which is published several times a year and distributed free to the Society's members, includes specialist contributions on mechanical instruments and their music as well as the latest information and collectors' announcements. Society activities include collectors' meetings, exhibitions and fairs where collectors can buy and exchange, and sight-seeing tours.
Numerous museum foundations, concerts, auctions and collectors' meetings bear witness to the enormous world-wide appreciation of mechanical musical instruments. The "Society for Self-playing Musical Instruments", a registered charity, represents all these interests and informs its members about all aspects of mechanical music.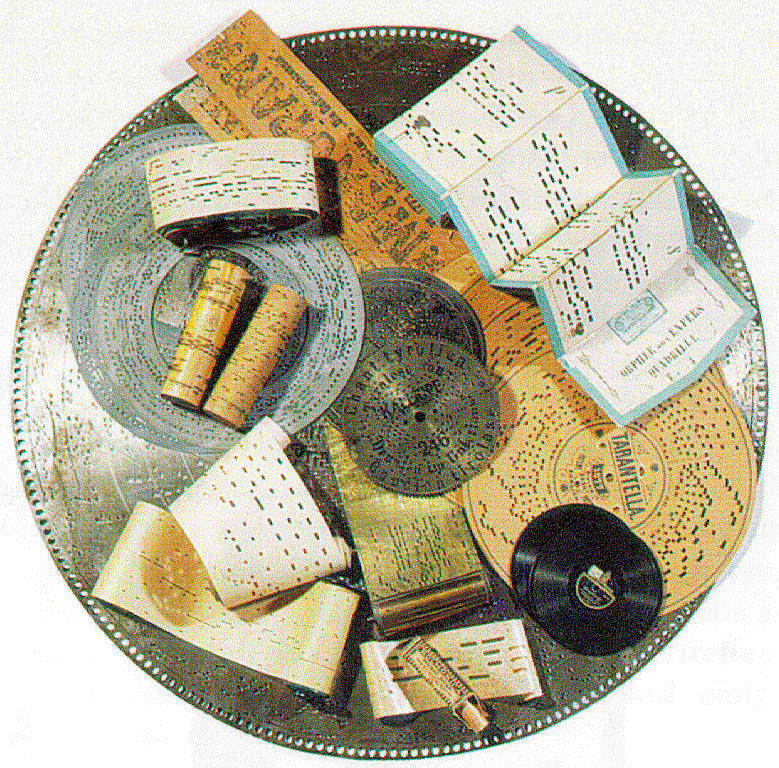 Various methods of storing sound information for self-playing musical instruments:
pinned barrel, perforated cardboard and tin discs, cardboard and paper music rolls.
Our Journal "Das Mechanische Musikinstrument", which is issued several times a year, is sent free to members.
To become a member, please fill out the registration form.
For further information please contact:

Ralf Smolne Phone +49-201-784927
Emmastr. 56 Fax +49-201-7266240
45130 Essen
GERMANY
or make use of this Contact Form.
---
Copyright © 1997-2016 GSMeV
Last update: May 18, 2016 (wt)